Jetzt mit 10 neuen Header-Designs
Music ist ein neues WordPress Theme von Themify, welches sich aktuellster Programmier- Techniken bedient um die Kunst eindrucksvoll zum Leben zu erwecken. Das Music Theme ist ein mit seinen Effekten wahrer Augenschmaus und ideal geeignet für Musiker- Band- und Künstler- Sites, Events, Portfolios, Fotografen etc. Das Theme unterstützt die einfache Einbindung von Musik-Players, die Präsentation eines Music- Albums, einer Playlist und eines Video Hintergrundes in voller Bildschirmbreite. So lassen sich sehr attraktive Seiten erstellen, ohne das dabei eine einzige Zeile Code angefasst werden muss.
Das Animieren von Hintergrundfarben ist für eine Music bzw. Multimedia Seite ein absolut cooler Effekt. Es können Hintergrundfarben der Seiten komplett, oder einzelne Abschnitte mit Farb- Animation angezeigt werden. Der integrierte Footer-Musik-Player ist kompatibel mit Desktop- Browsern und mobilen Geräten. Der Player ermöglicht den Besuchern der Seite, Deine Musik zu genießen.
Praktisch unbegrenzte Layouts möglich
Dank Themifys Theme- Builder können ganz ohne Programmier- Kenntnisse unbegrenzte Anzahl von Seitenlayouts per Drag & Drop im Frontend des Blogs erstellt werden.
Startseite – Mit der Fullscreen- Video- Hintergrund die Aufmerksamkeit fesseln, verschiedene verfügbaren Alben werden weiter unten auf der Seite hervorgehoben, und es werden verschiedenen Post-Typen, Farben und Layouts unterstützt.
Seitenlayout für eine einzelne Seite Parallax-Scrolling und die automatische Hervorhebung der aktuellen Seiten Abschnitte.
Musik-Video mit einem Video-Hintergrund in voller Breite, Touren, Termine und Veranstaltungs- Informationen, eine Galerie mit den aktuellsten Alben, und sozial Widgets um sich mit den Fans zu verbinden.
Ein weiteres Layout mit minimalistischen Zeitschriften Stylings, Ideal zur Präsentation von Tourdaten und Event-Informationen, Fotogalerien, Kontaktinfo & Google-Karte und sozial Widgets.
Music App – Gemacht für Apps rund um Music. Mit kontinuirlich scollendem Carousel, "Call to Action" Buttons, Preistabellen und FAQs.
Die Galerie legt einen Fokus auf Fotos und Galerie Beiträge. Gitter Galerien in voller Breite, sauber und intuitiv anzuzeigen Fotogalerie Beiträge, Parallax-Scrolling, ein kontinuierlich Scrollender Slider, eingebettete Videos, und WordPress-Foto-Galerie.
Alle der oben genannten Layouts sind im Music Theme standardmäßig enthalten und können jederzeit WordPress importiert und "Out of the Box" genutzt werden. Ein Demo des Themes ist hier zu sehen.
Einfaches Anpassen des Themes an den persönlichen Geschmack
Dank der Theme Administration und des extrem vielseitigen Drag & Drop Theme Builders übernimmt man die volle Kontrolle über das Design der Website. Unterstützt werden Google-Schriftarten, Hintergrundbilder und Farben, eigene Logos, Menü- Navigation- Design Varianten inklusive Mega- Menü, und Anpassung von Sidebar-Widgets, ohne dabei eine einzige Zeile Code schreiben zu müssen. Zum Thema passende umfasst verschiedene benutzerdefinierte Post-Typen sind inklusive. Wer trotzdem selbst an das Eingemachte gehen will, kann den WordPress- Hook- Editor nutzen um beliebigen Code in allen denkbaren Positionen des Themes zu platzieren.
Das folgende Video zeigt, wie einfach das Theme dem eigenen Geschmack angepasst werden kann.
Galerien
Präsentation von Fotos von einem Ereignis oder dem letzten Foto-Shooting? Kein Problem, das Theme stellt alles zur Verfügung, was man für eindrucksvolle Präsentationen benötigt. Masonry Galerien, Slider und Grid-Layout- Galerien stehen für den Einsatz bereit.
Video
Einfaches einbetten von YouTube, Vimeo Videos und Videos anderer Video-Websites. Alternativ können auch eigene Videos hochgeladen und direkt auf der Seite oder in in einer Lightbox abgespielt werden. Video-Beiträge können im Music WordPress Theme auch in einem Slider abgespielt und in einer Galerie im Grid-Layout präsentiert werden.
Album
Pushen eines Albums auf Deiner Website? Music macht auch das sehr einfach, Es kann eine benutzerdefinierte Playlist für die Besucher eingebunden werden, es wird den Besuchern ermöglicht mehr über das Album zu erfahren und das Album kann sogar zum Kauf angeboten werden.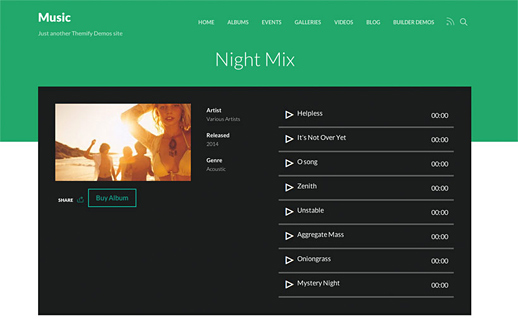 Veranstaltungen
Das Music Theme macht es einfach Event wie zum Beispiel Konzerte und Veranstaltungen etc. zu präsentieren. Zur Orientierung kann eine Google-Map mit dem Veranstaltungsort, das Datum der Veranstaltung und die Uhrzeit des Ereignisses und ein Link für die Besucher, um Tickets zu kaufen angezeigt werden.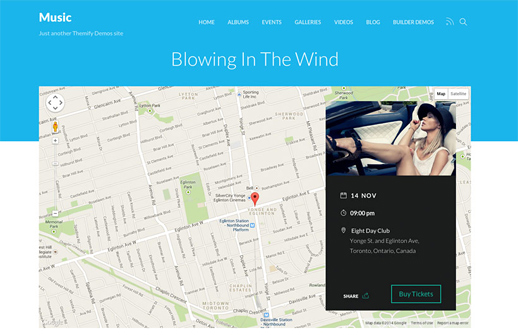 Fazit: Ein absolut cooles WordPress Theme, das die aktuellsten Web- Techniken nutzt. Ideal geeignet für Musiker Sites, Musik- Veranstalter, Bands und Musik- Bars. Dank des Theme Builders und der vielseitigen Layout Optionen auch für jedes andere Webprojekt geeignet. Unbedingt mal das Demo anschauen.